Some pictures, and their context
Please, click on pictures for an enlarged view
A student at Edinburgh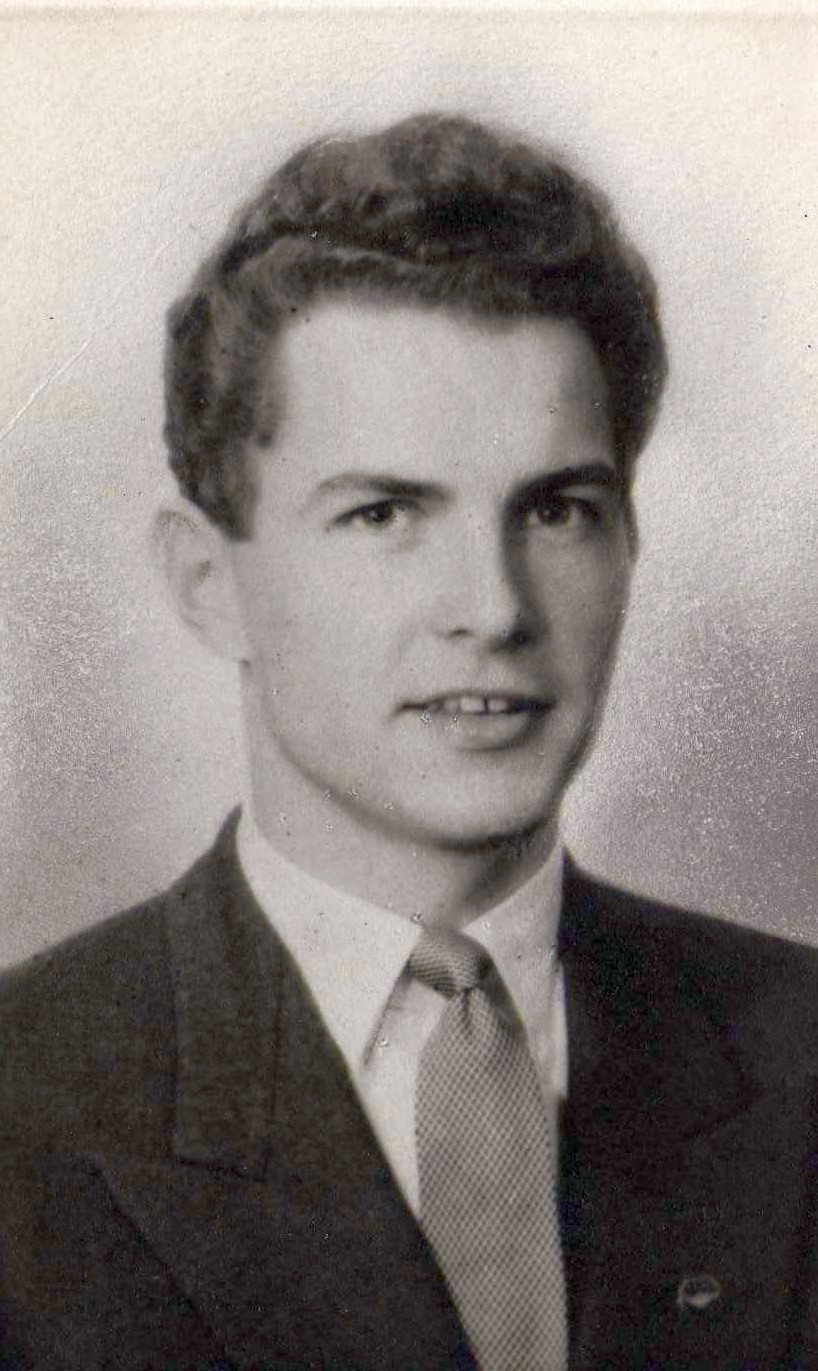 Jim at 18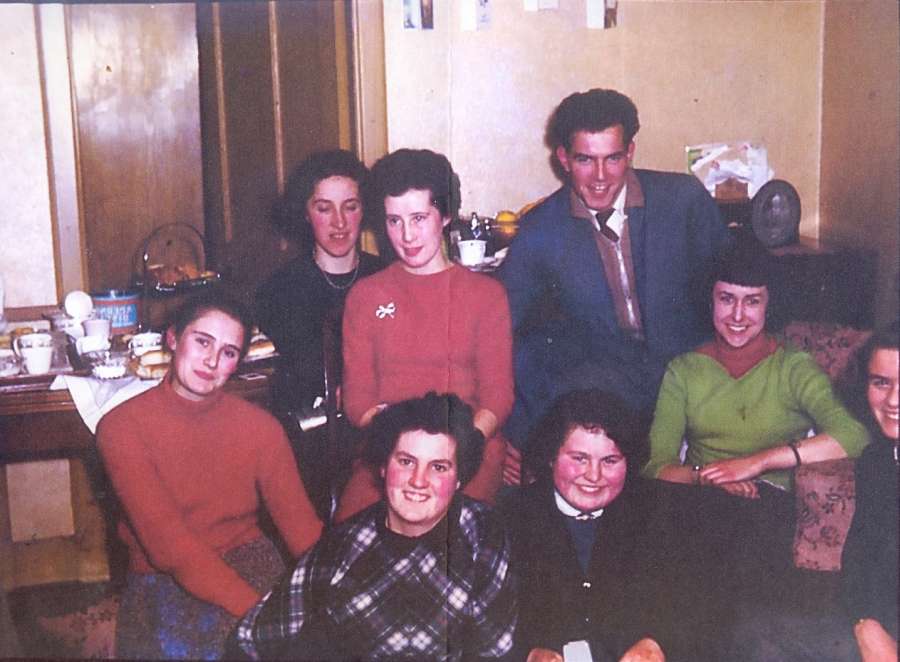 Jim with a group from the Edinburgh SU Fellowship. Picture from Isabel Murray.
Others in picture include Dorothy Young, Olive Rutherford, Joan Cummingham
After school Jim went to Edinburgh University to study in the Arts Faculty.
If you look carefully at the magnified view of the picture on the left you will see that as a good Scripture Union member he wore his SU badge!
He played hockey at university, was a member of the Liberal Party, and a member of the Christian Union.
Scripture Union Camps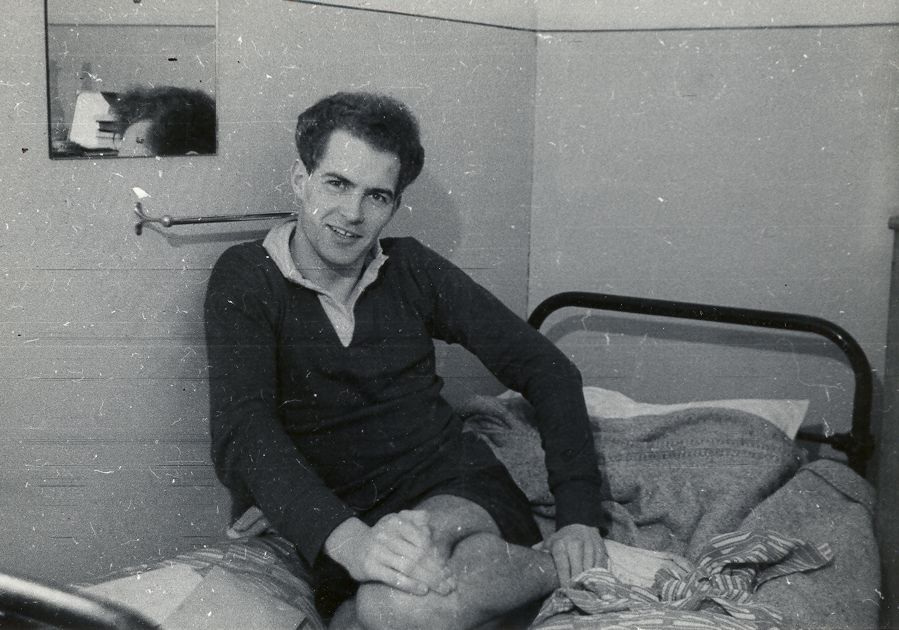 At an SU Easter camp aged 20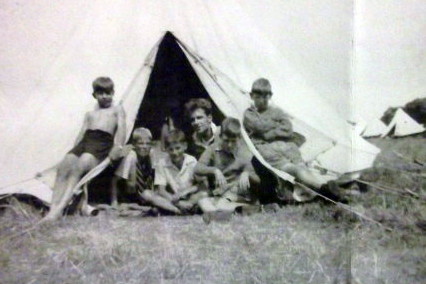 Summer camp at Scoughall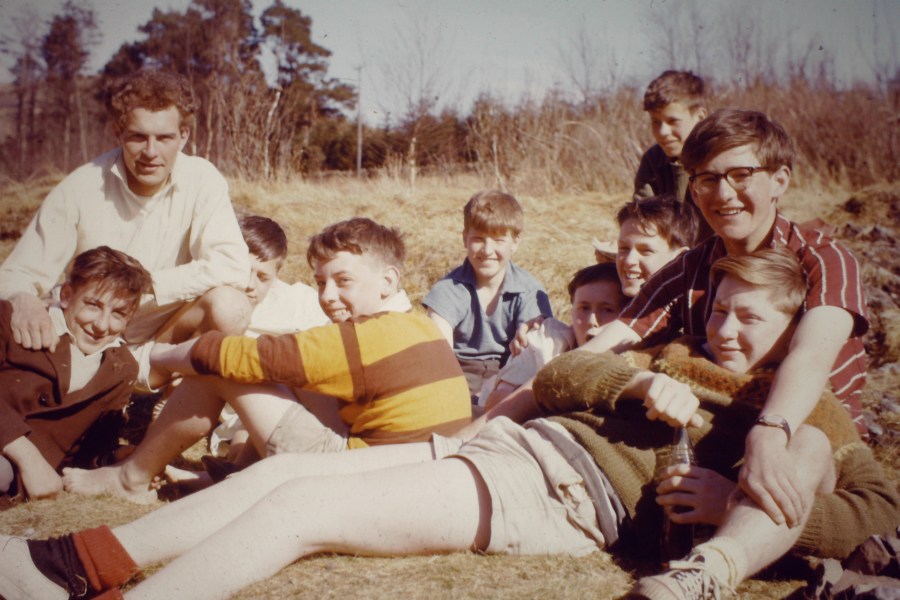 At an Easter camp around 1960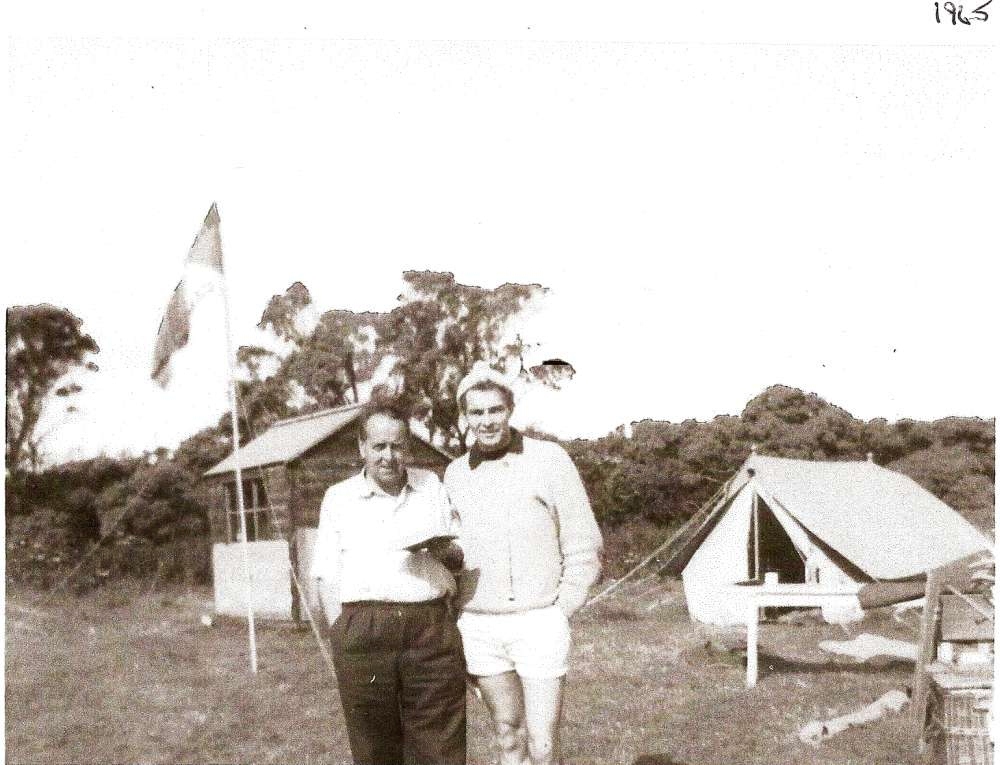 With Boss Meiklejohn at Scoughall in 1965
(Photo from Sheena Badger via Sandy Meiklejohn)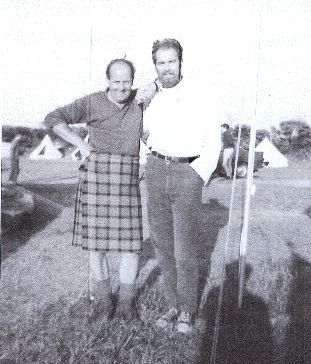 With Boss Meiklejohn at Kingscross in 1974
(Photo from Sandy Meiklejohn)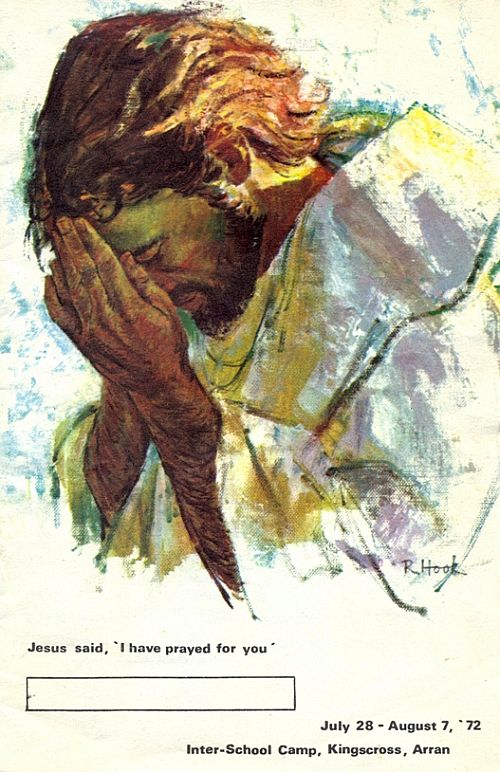 Cover of booklet produced for 1972 camp at Kingscross
Jim was involved in SU Camps in Scotland from his school days until 1977. He would regularly be at camp each Easter and summer - sometimes at more than one camp in the summer.
From 1971 to 1977 he led camps at Kingscross each summer.

The amount of preparation Jim put in for a camp was astonishing - he produced a booklet for each camp with lists of programme each day and campers and leaders names; he produced a camp song-book each year with many of the hymns and choruses re-written by himself.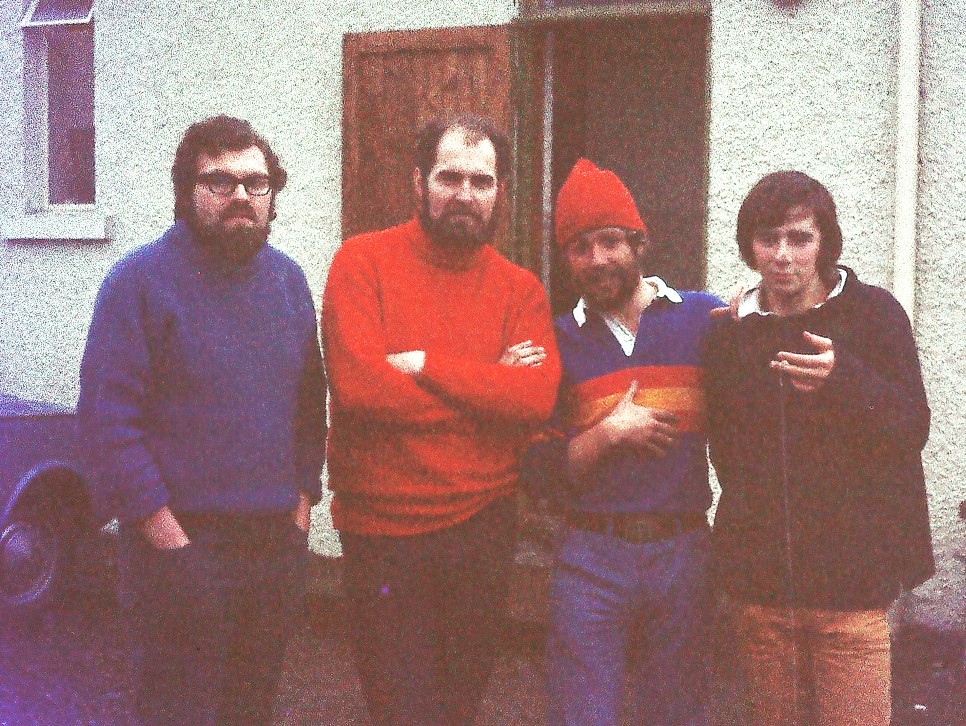 At a SU camp reunion, about 1975
The photograph below is at an SU camp reunion week-end. A reunion week-end of one of the Kingscross, Arran camps that Jim led. The reunion was at Kinlochard Village Hall.


Scripture Union Missions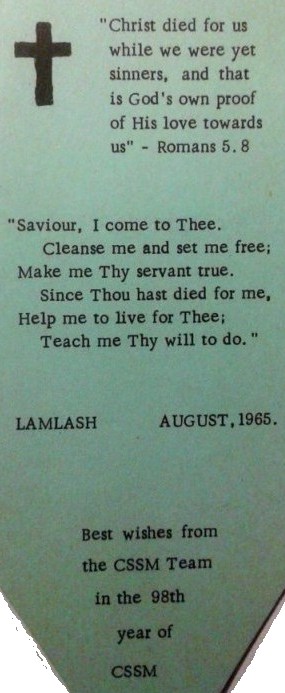 Jim was also at a number of SU missions. He led a couple of missions at Lamlash in the mid 1960s. As with the camps he prepared for missions in great detail. Here is a book-mark he produced for the youngsters at the Lamlash mission in 1965 to take away with them, giving list of leaders (or in the jargon of the times 'houseparty members').


Cephas Club in Edinburgh

In the early 1960s Jim was involved in the Cephas Club in Edinburgh in the basement of St George's West Church. Large numbers, often of alienated young people, attended on the three nights a week it was open. We've traced a couple of photographs from the Scotsman archives taken in the Cephas Club at that time. Here are links to them Jive playing draughts
New York
After his time at St Andrews Jim, in late 1967 or early 1978, went to New York spending two years there involved in community development with a presbyterian church in Brooklyn. (We would love to find more details - what was the name of the congregation he worked with; which part of Brooklyn etc. And great if we could find photos of where he was working.)
FYT Work

Jim started working for FYT in August 1971. Here (on the left) is a picture sent out with the press release announcing his appointment. (In the picture with Jim is Michael Eastman.)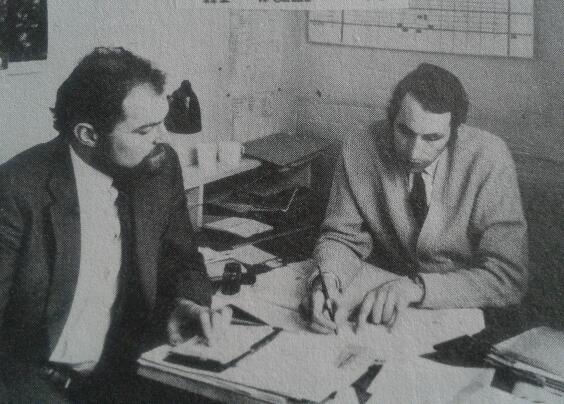 Jim plans his work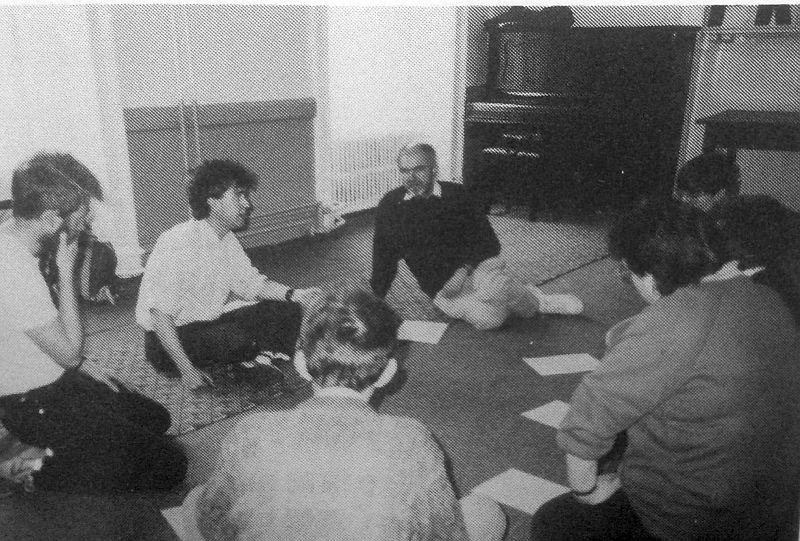 At a Glasgow training event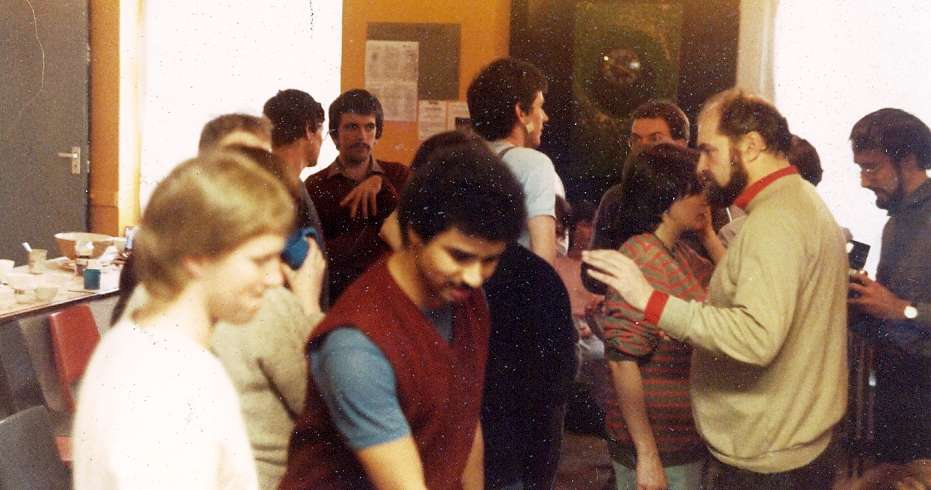 At an FYT training event at Bridgeton
Jim spent a great deal of his time at training events - here is a photo taken at an FYT Glasgow training event. Probably a Camps training event.
Wider involvement

Jim at Greenbelt, year unknown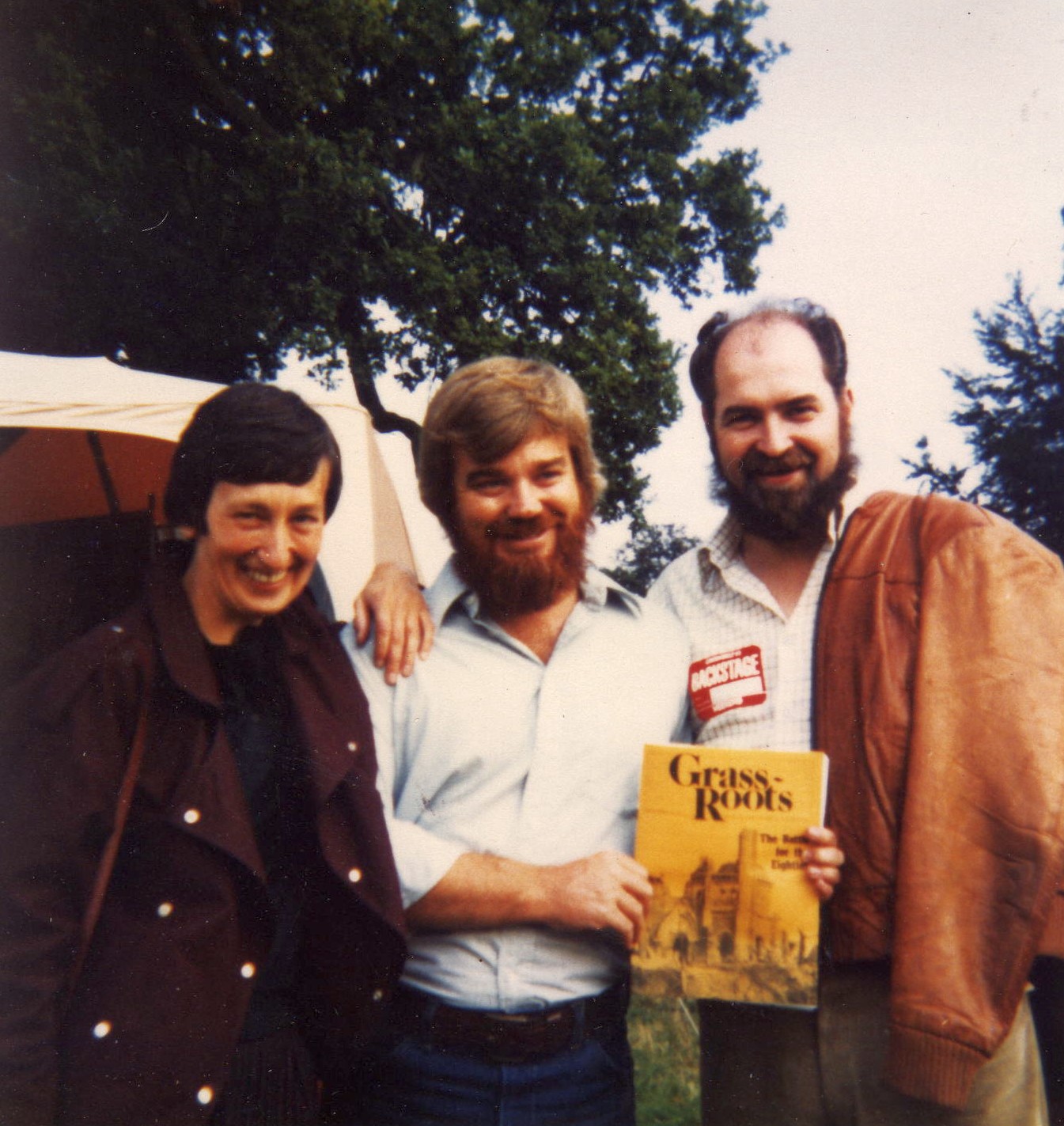 Jim at Greenbelt
Jim was involved in a large range of organisations (see the section on
Involvements
for more details). One such was
Greenbelt
- he was on the council and was a regular speaker at the Greenbelt Festival each August. In this picture Jim is in the backstage area with Jim Wallis of Sojourners.
Also in the picture is Jeanne Hinton of the Post Green Community, where Jim regularly visited as a speaker and came to feel very much at home.


Visits outside the UK

Australia
Jim made two visits to Australia, one in 1977 and the other in 1980.
Some pictures from Jim's Australian "tour" in 1977

Lausanne Congress held in Thailand in June 1980
Jim a participant at Lausanne Congress held in Thailand in June 1980, chairing the "MiniConsultation on Reaching the Urban Poor", and serving as International Co-ordinator of the pre-COWE study groups on Reaching the Urban Poor.
We are hoping to add to this page and would appreciate any photographs you might be able to provide.