A mini biography
Jim was born in March 1938 and brought up in Haddington, East Lothian. (The family later moved to Temple, Midlothian.)
He attended Knox Academy in Haddington and then went to Edinburgh University to study in the Faculty of Arts.
He was active in the Christian Union at Edinburgh University, and an active participant in Inter-Varsity Fellowship conferences etc. During his time at Edinburgh University Jim was involved in working with young people in "List D" Schools.
He was involved in Scripture Union, especially SU Camps, and was greatly influenced by J.W. Meiklejohn ("Boss Meiklejohn") of Scripture Union.
Jim,aged about 21, with a group of campers
at an SU Easter camp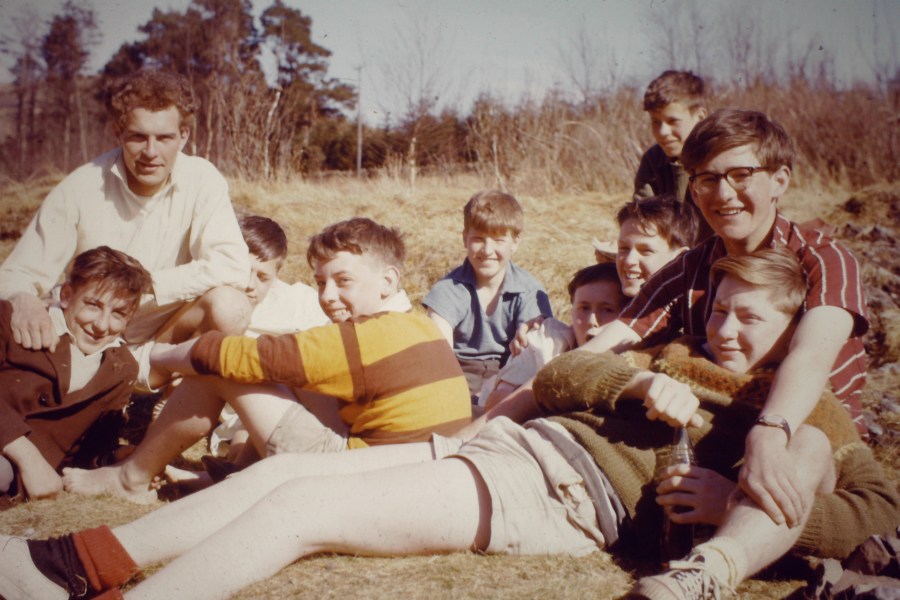 He attended his first SU camp in 1954. His involvement as a leader in SU-Scotland camps continued long after his student days — right up to 1978, when FYT camps in Scotland were started.
After Edinburgh University he spent about three years teaching, in Fife. During this time he was involved as a leader in the Cephas Club in the basement of St George's West Church in Edinburgh, which was attended by about 200 young people each night.
He then went to St Andrews University for 3 years to study Theology. During his time at St Andrews Jim was greatly influenced by DP Thomson (the Scottish evangelist who influenced Eric Liddell - the olympic athlete of Chariots of Fire fame) with whom he did a student placement one summer while at St. Andrew's University.
On the conclusion of his theology studies at St. Andrew's University he was licensed as a Church of Scotland minister by the Presbytery of Cupar in October 1967.
He then spent two years in New York involved in community development with the presbyterian church in Brooklyn. Years later he had this to say of his time there:
"This was a 'radicalising' experience. I found my thinking on socio-political issues totally inadequate to the situation, but my understanding of the Gospel was also inadequate. What did the Lordship of Jesus mean in a ghetto area experiencing such powerlessness and deprivation?"
On his return from New York he acted for a period as locum minister at Carrington with Temple, Midlothian, and also did some work for the YMCA in Aberdeen.
Jim in the FYT office with Michael Eastman, 1971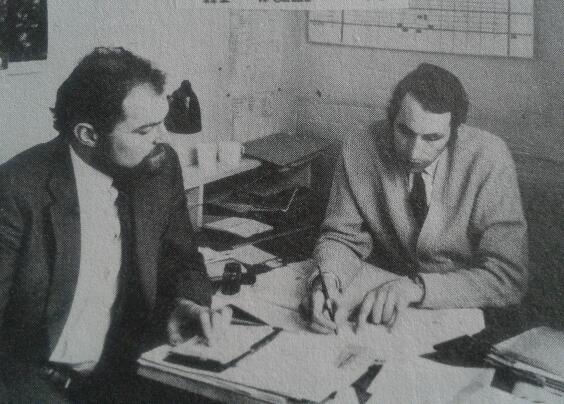 In September 1971 Jim was appointed as Education & Training Officer for Frontier Youth Trust. This post, based in London, involved extensive travel throughout the UK - running training events, speaking, influencing, writing, supporting.
Jim was involved in a whole range of groups - Greenbelt, Post Green Community, TraidCraft, the London Mennonite Centre, Dundee Street Level festival, SU Scotland camps.
Jim's influence was not restricted to the UK - there was an international dimension also to his work.
He made two extensive visits to Australia at the invitation of Scripture Union there - one in 1977 and one in 1980. His visit in 1977 was for five months.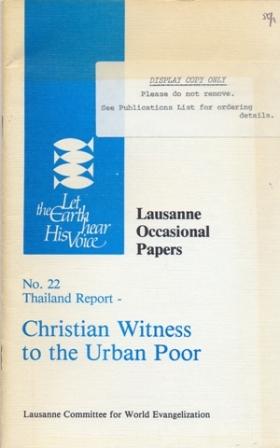 He was a participant in The the Lausanne Congress in July 1974. He was in the group which produced the 'radical alternative response'.
He was also a participant at Lausanne Congress held in Thailand in June 1980, chairing the "MiniConsultation on Reaching the Urban Poor", and serving as International Co-ordinator of the pre-COWE study groups on Reaching the Urban Poor.
Jim died in May 1986 at the age of 48.